IMDEX 2023 exceeded our expectations
We travelled to Singapore sure to participate in a prestigious event where we could meet government and military representatives, business executives and industry specialists that were looking for new partners and innovative solutions in the field of maritime defense. Well, our expectations have not been disappointed. In the refined frame of the Italian Pavilion, we had three days of busy business meetings that open us up to new business opportunities and international collaborations.
For this reason, alongside the Deputy Director of the ICE Ilaria Piccinni, who organized and managed the ITA booth, the Italian Ambassador to Singapore and Brunei, Mario Andrea Vattani, has visited several times the Companies (at our position in photo no° 4).
The Embassador Mario Andrea Vattani declared: "With regard to this region of the world, Italians have an inclusive vision that aims to collaborate with all the actors in the area and the regional organizations. Today we do it in Singapore by bringing our technological excellence with the Morosini ship, the youngest unit of the Navy." As then highlighted by the president of AIAD Giuseppe Cossiga "Italian companies have been present in this market for many years and collaborate closely with the institutions and the Singaporean armed forces in research and innovation activities."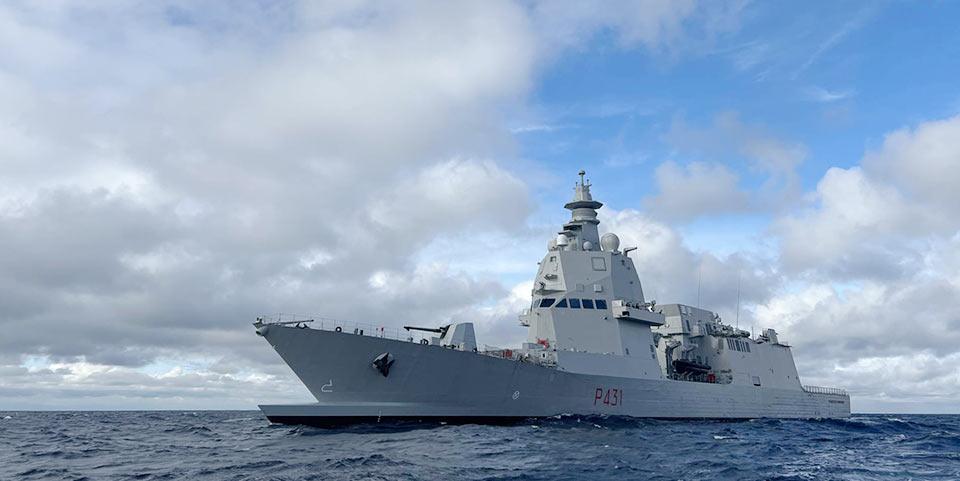 Multipurpose Offshore Patrol Vessel (PPA) "Francesco Morosini" – Credits
Italian Navy
The characteristics that highlighted the exceptional operational flexibility of the Multipurpose Offshore Patrol Vessel (PPA) "Francesco Morosini", recently delivered to the Italian Navy last October 2022, engaged in Indo-Pacific and Far East mission, have been illustrated by Captain Giovanni Monno (at our position in photo no°9) in a press conference at the ITA booth.
We are therefore really happy to have been able to catch the opportunity offered by ITA – Italian Trade Agency to present the solutions, the skills and Eurocontrol's custom services in such global showcase, which offers great visibility and concrete business opportunities.
Now our thoughts are already turned to SEFUTURE: don't forget, we are waiting for you in La Spezia from 5 to 8 June at stand A11.